Wine-Poached Pears with Ricotta Cream
These pears are poached in a light red-wine syrup that creates a lovely two toned effect once you dice and fan the pears to reveal a creamy interior wrapped in a ruby red syrup. Serve with a dollop of whipped and sweetened ricotta or cream. This recipe was shared with us by the wonderful author Janet Fletcher.
INSTRUCTIONS
Put the wine, water, sugar, and orange zest in a small saucepan. Bring to a simmer over moderate heat, stirring until the sugar dissolves. Peel the pears with a vegetable peeler.
Add the pears to the simmering liquid, setting them on one side. Cover with a round of parchment paper and tuck the edges of the parchment under the liquid to keep the paper in place. Adjust the heat to maintain a gentle simmer and cook for 15 minutes.
Lift the parchment and turn the pears to the other side, then replace the parchment cover. Simmer until the pears are just tender when pierced, 10 to 12 minutes longer. They will continue to cook as they cool so don't overcook.
With a slotted spoon, transfer the pears to a refrigerator container. Simmer the poaching liquid until reduced to 3/4 cup. Cool the syrup completely, then pour it over the pears. Cover and refrigerate for at least 8 hours or up to 1 day, turning the pears in the syrup every couple of hours so they color evenly.
To make the ricotta cream, put the ricotta, sugar, and vanilla in a food processor and process until smooth.
At serving time, cut each pear in half lengthwise and core. Put each pear half on cutting board, cut side down. Thinly slice lengthwise, leaving the slices attached at the stem end.
Put a pear half on a dessert plate. Gently press on each pear half with your hand to fan the slices. Put a dollop of ricotta cream alongside and sprinkle the ricotta cream with the pistachios. Spoon a little of the poaching syrup over the pears.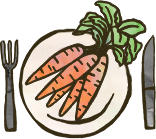 Fresh Ingredients Delivered to Your Door
Get connected to the finest organic farmers and artisans in your area. We deliver organic produce fresh from our family farm right to your door. From our field today to your fork tomorrow, there's a simple way to live deliciously!
GET DELIVERIES!