Chard and Shiitake Mushroom Fried Rice
This healthier take on fried rice is delicious and filling, not to mention a fantastic way to eat chard.
INSTRUCTIONS
Shop our: eggs, sauce, rice, organic produce farm boxes
Prepare all of your ingredients so you're ready to go. In a large non-stick skillet, heat two teaspoons sesame oil (or other high-heat oil) over high. Add the mushrooms once the oil gets hot, then turn the heat down to medium. Cook the mushrooms for 3-5 minutes, stirring occasionally. Place the mushrooms in a bowl and set the skillet back on the burner.
Cook the chard for a minute or so (no oil is necessary, as the chard has some moisture in it). Place the chard in another bowl and return the skillet back to the burner.
Heat the remaining teaspoon oil over medium-low heat. Add the garlic, onion and ginger and saute until fragrant, about 30 seconds. Add the chard and mushrooms back to the pan, turn the heat up to high and stir to combine.
Add the brown rice. Stir in the soy sauce, then make a little hole in the middle of the skillet for the egg. Pour in the scrambled egg and quickly stir everything together.
Remove from heat and portion out into bowls. Top with cilantro, sesame seeds and more soy sauce if desired.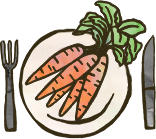 Fresh Ingredients Delivered to Your Door
Get connected to the finest organic farmers and artisans in your area. We deliver organic produce fresh from our family farm right to your door. From our field today to your fork tomorrow, there's a simple way to live deliciously!
GET DELIVERIES!