Making your own fruit leather is a little time consuming, but the results are worth it. You get a perfect snack for you or your kids and there's no added sugar.
INSTRUCTIONS
Preheat the oven to 140 degrees Fahrenheit, or the lowest setting yours allows.
Using a food processor or blender, process the fruit until smooth (depending on the size of your blender/food processor, you may need to do this in two batches).
Line two baking sheets with parchment paper, making sure to cover the sides. Pour the puree onto the sheet, to about 1/4" thickness.
Bake the fruit leather for 3-4 hours, or until smooth and the fruit leather is no longer sticky. (Alternatively, you may turn off your oven after 3 hours and leave it in the oven overnight).
Cut into strips and eat as a snack. This works great for packed lunches, especially for the kids.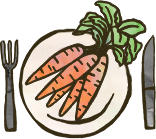 Fresh Ingredients Delivered to Your Door
Get connected to the finest organic farmers and artisans in your area. We deliver organic produce fresh from our family farm right to your door. From our field today to your fork tomorrow, there's a simple way to live deliciously!
GET DELIVERIES!