Strawberry Rhubarb Hand Pies
The buttery crust and the natural sweetness from the strawberries enhance the tart rhubarb so perfectly you might have a hard time just eating one.
INSTRUCTIONS
Preheat the oven to 400 degrees F. Line two baking sheets with parchment paper.
In a medium bowl, whisk together the flour, sugar and salt. Using a pastry cutter or fork, cut the cold butter into the flour mixture, forming pea-size crumbles. In a separate bowl, whisk together the milk and 1 egg and add to flour mixture; work the dough until smooth, but with visible flecks of butter. Flatten the dough into a disc and wrap in plastic wrap; chill at least 1 hour before using.
Meanwhile, in a small saucepan, melt 1 tablespoon butter over medium heat. Add the strawberries and rhubarb and cook until soft and jam-like, about 6–8 minutes. Stir in the sugar, balsamic vinegar, 1 teaspoon lemon zest, ¼ teaspoon lemon juice and salt. Cook another 3 minutes. Let cool to room temperature, then cover and chill at least 30 minutes before using.
When the dough is properly chilled, roll the dough on a lightly floured surface into a ¼-inch thick (10x12 inch) rectangle. Cut the dough into eight (3x4 inch) rectangles. Gather the dough scraps, re-roll, and cut two more (3x4 inch) rectangles. Place 1 ½ tablespoons filling in the center of each rectangle. Whisk the remaining egg in a bowl and brush the edges of rectangles; fold one short side of the dough over to the other short side, encasing the filling. Crimp edges using a fork.
Place the pies on the parchment paper-lined baking sheets and chill 30 minutes, at least.
Once chilled, brush each hand pie with remaining beaten egg, poke each pie with a fork (so steam can release) and bake until pies are golden, about 20-25 minutes; let cool slightly before serving.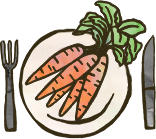 Fresh Ingredients Delivered to Your Door
Get connected to the finest organic farmers and artisans in your area. We deliver organic produce fresh from our family farm right to your door. From our field today to your fork tomorrow, there's a simple way to live deliciously!
GET DELIVERIES!