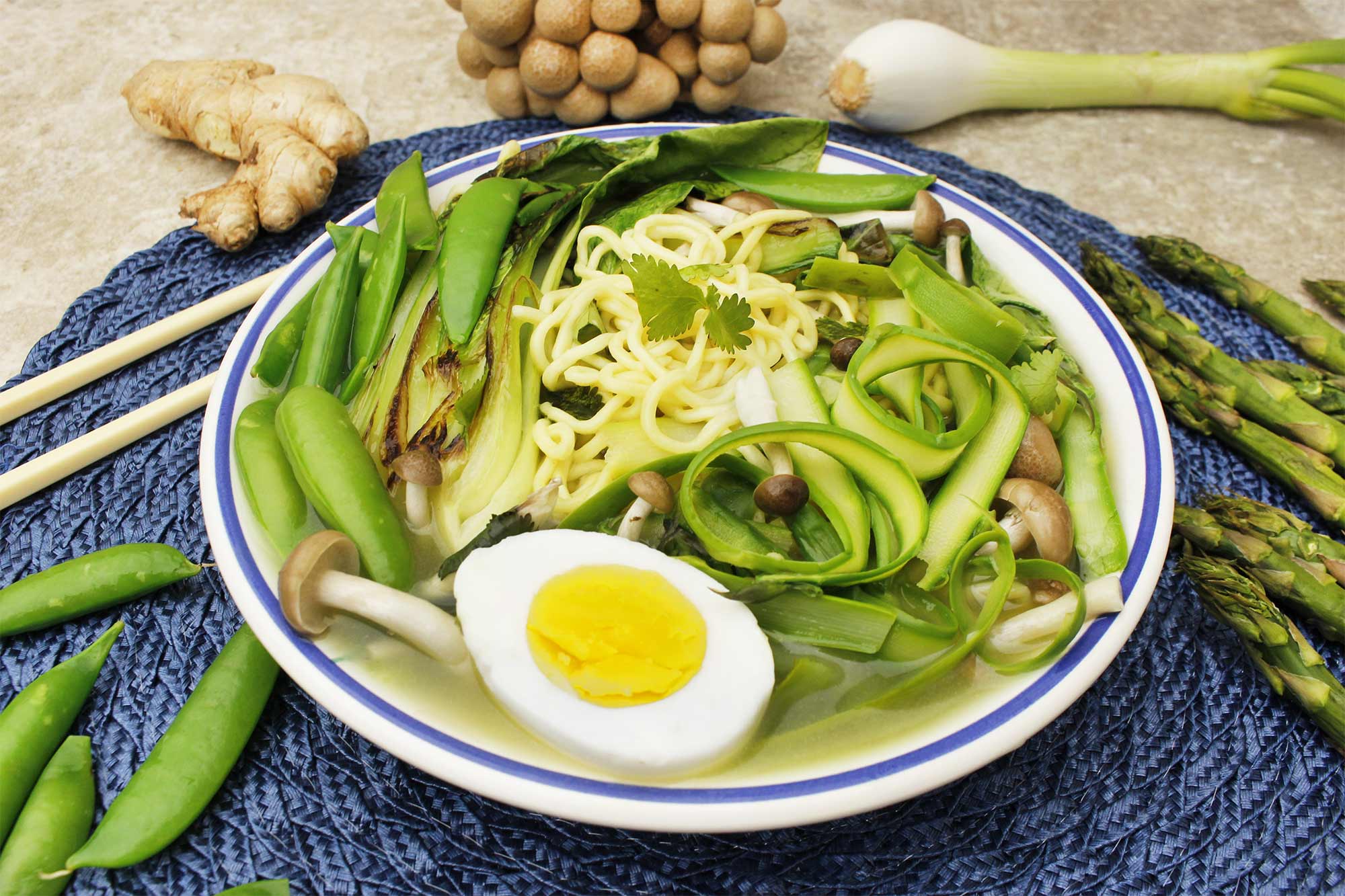 Spring Ramen with Snap Peas and Asparagus
Filled to the brim with delicious spring vegetables, this ramen is healthy and filling.
INSTRUCTIONS
Shop our: broth, eggs, ramen, organic produce farm boxes

Cover the eggs with cold water in a small pot. Bring the water to a boil over medium heat. When the water has reached a boil, cover and remove from heat. Let sit 11 minutes, then place the eggs in an ice bath to cool. Peel and cut them in half and set aside.
Heat the olive oil in a large pot over medium heat. Trim the base of the bok choy and cut it in half. Sear both sides, about 2 minutes, until slightly brown and tender. Remove from pot and set aside.
In the same pot, add the spring onions, green garlic, 2 cloves garlic and 1 tablespoon minced ginger. Cook until the edges of the onions start to brown, about 2 minutes. Add the beech mushrooms and cook until they begin to soften, about 1 minute. Add ¼ cup of the broth and deglaze the brown bits on the bottom of the pot. Add the rest of the broth and simmer for about 20 minutes (thought you can cook longer for a deeper flavor). Season with salt.

Meanwhile, bring a separate large pot of water to a boil. Snap off the tough bottoms of the asparagus. Cut off the stems of the snap peas and pull out the little strings on the side. Once the water is boiling, toss in the asparagus and the snap peas. Cook until slightly tender, 1-2 minutes. Using a slotted spoon, remove the asparagus and snap peas from the boiling water and immediately place them into an ice water bath (this will stop the cooking process and will keep the veggies green). Remove asparagus and snap peas from the ice water, then use a vegetable peeler to shave the asparagus in long, thin strips. Set aside.
In the same boiling water, add the noodles and gently separate with chopsticks or a fork. Cook for 2 ½ minutes. Strain the noodles, then run them under cold water briefly to prevent overcooking.

Place the snap peas in the mushroom broth to heat them up, about 2-3 minutes.
Add the noodles, bok choy, shaved asparagus and warmed snap peas into serving bowl. Pour the broth over the top and garnish with cilantro and a squeeze of lemon. Garnish with half an egg and serve.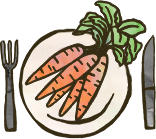 Fresh Ingredients Delivered to Your Door
Get connected to the finest organic farmers and artisans in your area. We deliver organic produce fresh from our family farm right to your door. From our field today to your fork tomorrow, there's a simple way to live deliciously!
GET DELIVERIES!